Villanuevas weir / dam, regulates the Mijares River channel in its pass through Teruel; just near the border with the province of Castellon. The sluice gates of the weir are operated from the opposite bank of the one which has got has the pedestrian access. Therefore, due to maintenance and operation reasons as well as to ensure the safety of the operators, Iberdrola, the company responsible for the facilities operation, considered necessary building a footbridge to connect the pedestrian access point with the weir sluice gates.
The steel footbridge designed by INES, has 3 different modulesspanning an overall distance of 43 m with a constant width of 1.00 m. The two end modules are solved with two stair fl ights, which structure is based on two 250x100 mm tubular beams connected with crossbars, whereas the central module spans 25.00 m and it is designed as a Warren lattice type, 1.35 m thick.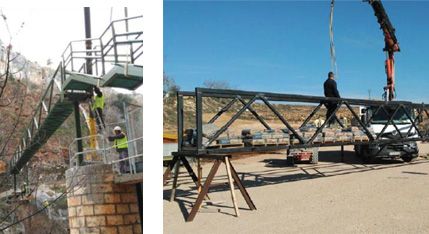 The footbridge has got 4 supports, three of them made with piers approximately 5.00 m high, using HEB-160 or HEB-180, depending on the support. The fourth support is undertaken with two cantilevers that are anchored to the existing masonry structure. The footbridge has an isostatic configuration.