Aware of the vertebral function of Serrano Street in the City structuring, the project aims improving the physiognomy and operation of the street as well as of the environment.
To achieve this purpose, an extension or enlargement of the pedestrian area has been designed, removing the pavement surface corresponding to the existing parking area. To improve the traffic flow,the parking activity has been transfered to three new underground parkings, avoiding this way slowdowns consequence of thesurface parking maneuvers and second row parking.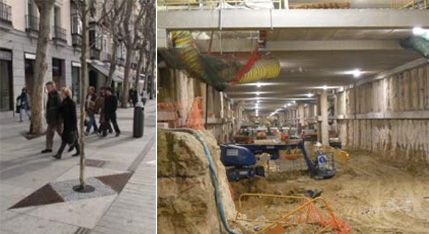 The new 3 underground parkings have got 4 levels each and it is worth outstanding the future presence of a High Speed Railway tunnel 35 m below surface.
Together with the mentioned interventions,the diff erent required facilities and its location are designed, looking to combine its operation and maintenance.