This structure allows the underpass of the A-6 Motorway under Cardenal Cisneros Square, located in University City of Madrid. It consists on the one hand of an original slab built in 1975, with 25.00 m span..
This slab was enlarged in 1995 both longitudinally (4.40 m to the abutment No. 1, with the same depth of 1.10 m) and transversally, with a slab of 13.00 m width (right enlargement, towards Madrid) and 18 00 m width (left enlargement, to A Coruna), reducing the depth of the slab to 0.80 m. There are four expansion-joints, in the abutments two transverse and two longitudinal between the original slab and each enlargement.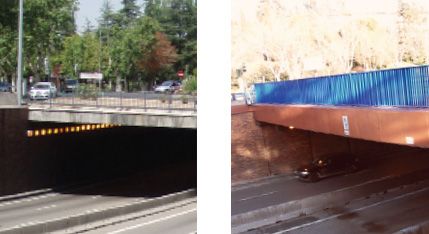 The original walls of the underpass are made with diaphragm walls, where rest the concrete slab. The new retaining walls, with 0.8 and 0.6 m thick (required on the west side to extend the structure) are free at the crown and in the underpass area the slab rests upon them by neoprene bearings. The total length of the diaphragm walls, are lined by brickmasonry (242.50 m). These walls of variable height between 0.20 and 5.20 m have no foundation and are crowned with prefabricated cornices. There are IPN-160 horizontal profiles, only when the heights are higher than 2.85 m, and they are not anchored to the slurry wall.
The damages of this structure consisted mainly of a significant deformation of the slabs, and the consequent appearance of fissures, presence of moisture, patinas and efflorescence. On the masonry linings of the walls a horizontal shift of its coronation (overturning) have been noticed, besides the break of the brick bonding..