During the second half of 2015, Dragados (for the Madrid City Council) executed works of restoration of Bailen Street Viaduct (above Segovia St.), viaduct which is undoubtedly one of the hallmarks of the capital of Spain. These works, which were encompassed within the 'Contract of Integrated Management of Road Infrastructure of the city of Madrid' (which is awarded Dragados), were directed by Ines Ingenieros Consultores. Furthermore, Ines Ingenieros had also been the author of the restoration project, written during the last months of 2014.
This viaduct was born of iron, when times of the First Spanish Republic, more than 140 years ago. Later, in the 1930s, was replaced by one of concrete to keep connecting the Royal Palace and the Plaza de Oriente with the Basilica of 'San Francisco el Grande', always saving the steep slope of what was once a valley, now known as the Segovia Street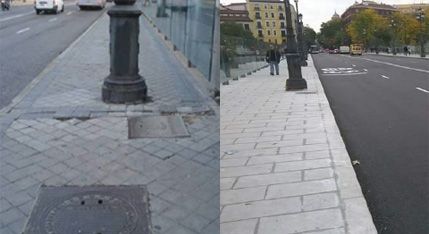 Today viaduct was therefore built in the 1930s and opened in 1942; however, the current deck is more modern, since its construction was completed in 1978 to replace the previous, demolished due to a very severe pathology (attacks to the concrete by sulphates). This new deck of 1978 is continuous and covers the spans 2 to 4 of the current viaduct, that is to say, it was designed to behave as a continuous element of about 110 m of total length and partial spans of approximately 36.50 m (distance between piers P1-P2, P2-P3 and P3-P4). In other words, the current deck was designed to be supported by piers P1, P2, P3 and P4 (new piers were skillfully materialized among the ancient arches) but not by the arches (or their uprights) that had supported the previous viaduct. With this it follows that the current role of the famous ancient arches and uprights in spans 2 to 4 is purely ornamental: in the '70s they remained because they already formed part of the landscape and the local identity of Madrid.