The objective of this consultancy, funded by the World Bank under the "Hurricane Tomas Emergency Recovery Project and Regional Disaster Vulnerability Reduction Project", was to produce a comprehensive public buildings and hurricane shelters inventory database of Saint Vincent and the Grenadines.
The project comprehended the survey of 338 public buildings: schools, hospitals, police stations and government buildings, as well as some churches used as hurricane shelters, located in the six main islands of the country.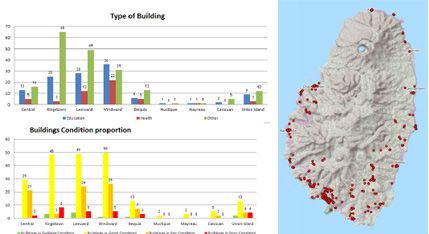 It sought to support BRAGSA (Roads, Building and General Services Authority) in the management of the transport network and increase the Government's capacity for evaluation and response in case of natural hazards and climate change risks.
Local staff was trained and involved in the project to ensure they could manage, collect and update the database after the end of the contract.