The structure is located in the district of Moncloa-Aravaca, in the city of Madrid. It is a skewed bridge with 63 m length, with two spans prestressed concrete deck supported on a central pier and in two abutments with wing-walls. The deck, with 1.60 m thick, consists of two spans of about 26 and 33 m and cylindrical hollow core with 0.80 or 1.20 m diameter. There is an expansion-joint on the paved road over each abutment.
The central pier is made of reinforced concrete with a rectangular section of 0.9 x 10.8 m and about 4.9 m height. The foundations were constructed by iaphragm walls of 80 cm wide and 20 m deep. The abutments and wing-walls consist of reinforced concrete 0.80 m thick front wall and about 5 m height over the ground level lined by brick masonry.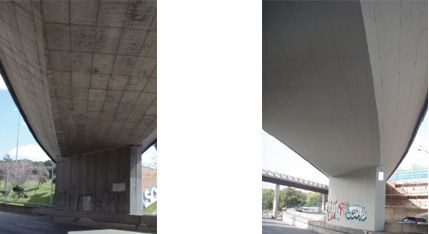 The main damages of the structure were the moisture, leaks and efflorescence on both spans of the slab due to an inappropriate waterproofing; patina because of the corrosion of the slab reinforcement; and cracks of medium importance. In the pier, there are cracks on the top of the shaft lining, due to an excessive pressure between elements. In the brick of the abutments and wing-walls, lining were found both cracked and loose elements due to the excessive pressure, as well as moisture and leaks because of the bad waterproofing. On the platform the pavement had general damages.