The project is focused on a waste treatment facility for the Sulaimaniyah Municipality ("Ecocem Iraq"). It includes a mechanical pre-treatment facility, a bio-drying unit, a dried waste sorting facility to separate inorganic (primarily inert waste streams) and organic (fuel value waste streams), and a landfill for the inert fraction to provide a complete waste management solution for the Sulaimaniyah Municipality. The work area occupies, approximately, 12 hectares.
The waste management facility will receive municipal solid waste (MSW) from the Municipality and will process the majority thereof into refused derived fuel (RDF) with a smaller mostly inert fraction remaining that will be landfi lled. The RDF will be used as fuel by the Bazian Cement Company, a company owned by Lafarge and in which IFC is currently invested, located in Bazian, Sulaimaniyah, Iraq; the RDF may also be used in other cement kilns in the region. The new processing facility as well as the new landfill for inert material, will be locatedapproximately 10 km south of Sulaimaniyah, adjacent to the existing Tanjero municipal waste disposal site.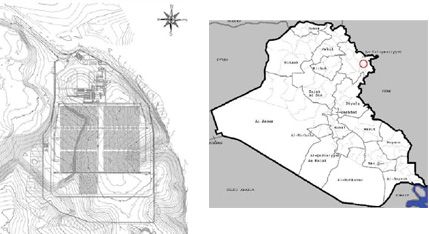 The project represents an opportunity for Lafarge Iraq to provide their Iraq based cement plants with controlled good quality and longterm sustainable of RDF as a cost-efficient alternative fuel source that will contribute to maintaining Lafarge predominance in the cement market in Iraq while promoting the group's awareness of its social and environmental responsibility in the country
The "Bazian Cement Company - BCC", representing Lafarge in Iraq has contracted MASIAS & INES with the aim to develop a Construction Project regarding a waste treatment plant for Sulaimaniyah Governorate. The plant will include mechanical treatment facilities combined with a bio-drying unit and a low impact landfi ll in order to provide a complete waste management solution for Sulaimaniyah Municipality.