This beautiful steel footbridge flies over the M-30 ring road connecting the avenue "Avenida de Burgos" with "Calle Serrano Galvache".
The footbridge layout draws a prominent curve of ninety degrees. It is arranged in four spans being the biggest of 57 m long.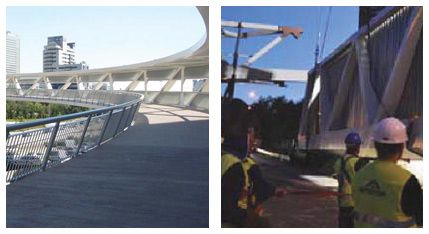 It presents a "C" shaped open section with each of its sides formed by steel triangular latices. The latices themselves are made of steel drawers with a trapezoidal profile and varying dimensions.
The supporting piles, along with the rest of the structure, are made out of steel rectangular-sectioned drawers. They are vertically tilted the same angle as it is the lateral face of the overlying deck
The structure rests on a deep foundation which transmits the bearing loads to the soil through tubular micropiles. The stub abutments supporting both ends of the footbridge, also rest on deep pile foundations.
INES Engineers was responsible for the structural assistance included in the Construction Management Work. Amongst the many labors carried out, INES team supervised the implementation of the foundations, piles and the placement of the steel latices.