IBERIA New Headquarters Project in Madrid consists of a single building composed of several offi ce modules that are connected by an atrium. The building is formed by one basement, a ground fl oor, four fl oors above ground and a roof. It is placed on a plot located in proximity to the T4 Barajas Airport Terminal.
The underground floors occupy the entire plot footprint and consist of a basement dedicated mainly to car parks and facilities areas, and a ground fl oor dedicated to offices and gardens.
Above ground, five main modules are distinguished; three on the east side and two on the west side consisting of five floors. The first four are dedicated to offi ces and the last to facilities.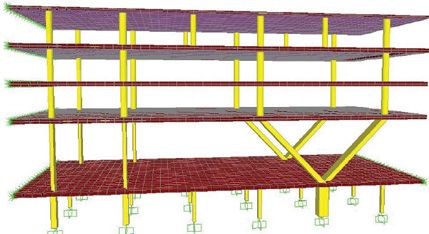 The building's location, near the Barajas T-4 Terminal, implies that the total height of cannot exceed the maximum allowed by civil aviation, thus the structural system must be such that allows the choice of the minimum fl oor thickness as possible. The building is covered by a steel roof formed out of aluminum slats with skylights. The structure's geometry is defined by the functionality and thearchitectonic idea.
The columns grid is 7.80 x 7.80 m underground, and 7.80 x 15.60 m above ground level, so that transversally one out of two columns die in ground fl oor. In some zones, cantilevers smaller than 3.00 m have been defined.