BBVA has just built a Multiple Services Complex for the new headquarters of this Company in Madrid (Las Tablas district). This multifunction complex building is, at the same time, a sport center,a physiotherapy center, a nursery and a kindergarten. This new Services Building is also fitted with a parking and a cafeteria. It is conveniently located opposite the new headquarters (the project of which was also authored by Ines Ingenieros Consultores), across Fresneda Street, now renamed Azul St., exactly in the plot M8 of Las Tablas.
Ines Ingenieros was in charge of two fundamental tasks related with the building of that complex: the drafting of the Retaining walls, Emptying, Foundation and Structural Construction Project, as well as the technical assistance work for those same four phases of construction, carried out between December 2013 and first months of 2015.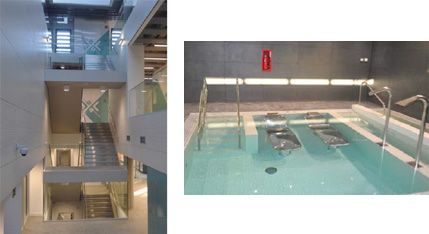 Above ground level, the complex consists of two buildings connected by a walkway.
The eastern building has a rectangular floor plan (it houses the sport center, including a 25 x 12 m swimming pool, a more little one for children learning and a spa) and is three storeys high, while the western one is composed by three modules or 'fingers' (nursery school and kindergarten), with one storey less than the eastern one. The underground floors (basement -1 and semi-basement) and the ground floor occupy the entire surface between retaining walls (continuous 45 cm thick RC slurry walls, with temporary anchors). Facilities and parking will be located in these underground floors.