INES Ingenieros has carried out the detailed design and construction management of "Contentition improvement and widening sidewalks" on the bridge of the Font de Sant Miquel (Road C-243b) in the municipality of Gelida.
The work took place between July 2015 and January 2016, increasing the amount of material execution of the works € 232,861.06. The structure on which has made the interception is on the urban crossing of the C-243b road passing through the town of Gelida,and its function is to bridge the "Torrent de Sant Miquel".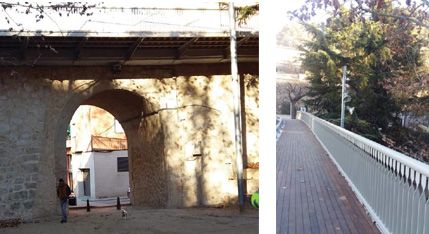 As a special feature, it should be noted that the curve of the north side access had a very small radius that caused the invasion of heavy vehicles oncoming traffic.
The existing containtment was a steek road safety barrier type because it is the one that occupies less space in the section of the bridge, allowing maximum clearance on the inside curb (0.70 m) to allow the passage of wheelchairs and strollers.
The targets of the work on improving and widening contentions consist of providing sidewalks wide enough to allow pedestrian traffic in accordance with the provisions of accessibility and urban mobility and, further, that allows to integrate contention systems according to the security level of the bridge.