The bridge over Manzanares River, located in Madrid, is divided into two different parts: the first one is an access structure (over the flood areas) and the second one, a three-span bridge that crosses over the riverbed.
This bridge was built in two stages, one in 1934, originally designed by the civil engineer Carlos Fernández Casado, and a widening stage in 1982, reaching the structure until 160 m length. The total width of the deck is 25.30 m, 16.80 m corresponding to the preserved original work.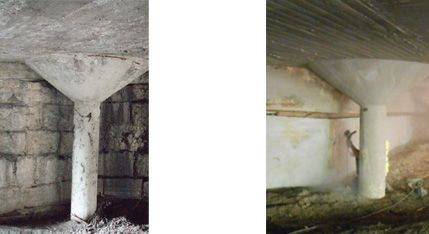 The first part of the structure consists of a 30 cm depth continuous reinforced concrete slab. The piers are distributed in 29 axes, each 5x5 m (138 totally). The deck is divided into three sections by two transverse expansion-joints. Each column consists of a 40 cm diameter shaft and a truncated cone capital in which the diameter changes from 0.40 to 2.00 m in 0.60 m height. Its foundation is made up by four reinforced concrete piles with 0.30x9.00 m square section and pile-caps of 2x2 m.
The section over the river has three spans of 15, 20 and 15 m. The section near the intermediate bearings is a ribbed reinforced concrete slab. The original bridge is made of eight ribs of variable depth between 1.00 m and 1.60 m. Transversally, the 40 cm depth beams are separated about 2 m.