BBVA construyó en el barrio de Las Tablas, Madrid, un Complejo de Servicios para la nueva sede que dicho banco acaba de inaugurar en la mencionada capital. El complejo es, al mismo tiempo, un centro deportivo, un centro de fisioterapia y una escuela infantil. Está dotado, además, de aparcamiento y cafetería. El nuevo Edificio de Servicios se ubica justo enfrente de la nueva sede (cuyo proyecto también es de autoría de Ines Ingenieros), al otro lado de la Calle Fresneda, ahora rebautizada como Calle Azul, concretamente en la parcela M8 de Las Tablas.
Ines Ingenieros Consultores realizó dos tareas fundamentales relacionadas con la construcción del mencionado complejo: la redacción del proyecto de ejecución del vaciado, contención, cimentación y estructuras, así como la asistencia técnica en obra para esas mismas cuatro fases de la construcción, efectuada entre diciembre de 2013 y los primeros meses de 2.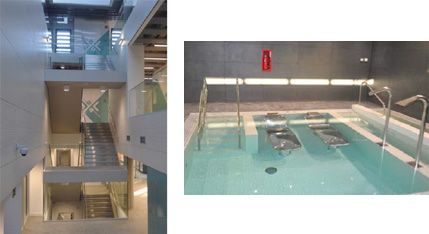 Above ground level, the complex consists of two buildings connected by a walkway.
The eastern building has a rectangular floor plan (it houses the sport center, including a 25 x 12 m swimming pool, a more little one for children learning and a spa) and is three storeys high, while the western one is composed by three modules or 'fingers' (nursery school and kindergarten), with one storey less than the eastern one. The underground floors (basement -1 and semi-basement) and the ground floor occupy the entire surface between retaining walls (continuous 45 cm thick RC slurry walls, with temporary anchors). Facilities and parking will be located in these underground floors.